Jess' Baba Ganoush

During our time at Swami's Yoga Retreat we had the pleasure of meeting Jess. She is
probably the cutest chef in the world
. However, don't be fooled by her tiny appearance. Jess has copious amounts of fire and she uses that passion to fuel delicious dishes for the guests and the helpers as well.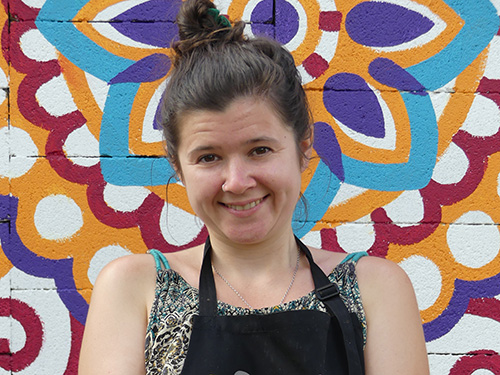 Originally she comes from the Southeast of Ireland and worked in Dublin for 5 years in a café and busy restaurants. Whilst training, Jess completed an internship at "The World's Best Restaurant" Noma in Copenhagen, where she was inspired to combine her love of food with travel. It was an easy decision for her to travel to Australia, where a healthy lifestyle encouraged Jess, now vegan, to further explore her passion for sustainable, 'real food', a handy skill when cooking at a Yoga retreat such as Swamis.
This is where we fell in love with her Middle Eastern dish, Baba Ganoush. It is made of baked eggplant and various spices. Usually it is served with bread as a dip or as a side. The preparation is fairly easy but the result is simply morish. Taste it for yourself.
If you would like to learn more about Jess and taste her well-thought-out yet down-to-earth meals yourself, get in touch with her. She offers private catering and also individual cooking lessons.
Connect with her on Instagram: @jessieg1107 or E-Mail: jessieg1107(at)gmail.com
28/11/2017
Middle Eastern
dip
(0 ratings)
Sydney, Swami's Yoga Retreat
difficulty
spiciness

preparation
baking time

40
min
temperature
ingredients
4 eggplants
2 tbsp smoked paprika
1 tbsp ground cumin
2 tbsp soft brown sugar
1 tbsp ground coriander
2 tbsp salt
1 tbsp ground black pepper
1 tbsp ground Tumeric
300 ml oil (e.g. rice bran oil)
150ml Coconut cream
step by step to pleasure
Prepare a baking tray with baking sheet and preheat the oven at 190°
Chop the eggplant roughly
Put the prepared eggplant into a large bowl. Now add all the spices and the oil. Mix thoroughly
Spread the spiced eggplant on the prepared baking tray and roast for 40 minutes or until crispy
Blitz in the food processor and slowly add 150ml of coconut cream

Et voilà enjoy your deliciousness
Have fun and come back for more!
If you'd like to share your cooking with us, tag us at Instagram: @tastethecultures
0 comments
---


No comments so far. Don't you want to be the first one?