Fesen­joon

We got this beautiful recipe from Nineveh, during our time as cooks in the Yoga Retreat. She runs retreats and events about organic lifestyle close to ancient methods for a healthy and sustainable life. For more information you can check her website
AstroLab
.
The recipe and Nineveh are both of Iranian origin.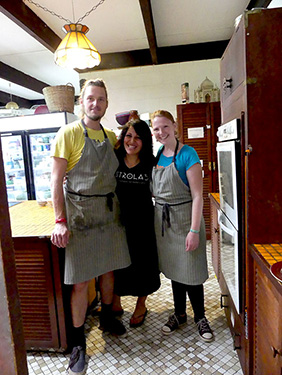 The eggplants are cooked in a thick and creamy sauce made of walnuts and pomegranate. Pomegranates, its history and its use in Persian culture dates back to 3300 BC. Fesenjoon is another example of Persian ingenuity in creating a well-balanced and healthy meal. The combination of all the ingredients in Fesenjoon is simply genius! Khoresh-e Fesenjoon is definitely perfect combination of sweet and tangy, healthy and sooo delicious.
Sydney, Swamis Yoga Retreat
difficulty
preparation
ingredients
1 kg eggplant
1 large onion
2 cups shelled walnuts
1 cup pomegranate molasses
2 cups water
1/4 cup sugar
1/4 teaspoon turmeric
Dash of cinnamon
Olive oil
Salt and pepper to taste
step by step to pleasure
Firstly put the walnuts in a bowl with water to soak them
Wash and cut the eggplant into cubes. Peel the onion and finely chop it
Chop the walnuts as finely as possible or pulse them a few times in a food processor
In a small pan add two tablespoons of oil and saute walnuts until lightly toasted for a minute or two over medium heat, stirring frequently
Add the pomegranate molasses and 2 cups of water, mix well, cover the pan with lid slightly ajar and simmer for 30-40 minutes on low heat
In a large heavy pot, saute the onions in 2 tablespoons of oil over medium heat until golden brown, add turmeric and stir well
Place the eggplant cubes into the pot and cook until golden brown on all sides, add salt, pepper and a small dash of cinnamon. I usually add 1/2 teaspoon of salt in the beginning which later on can be adjusted and a dash of pepper. This is not a hot dish
Pour the pomegranate walnut mixture into the pot, mix well, add additional water if needed, eggplant cubes need to be covered in liquid, bring back to a boil. Then lower the heat, cover and simmer for 30-60 minutes. The slow cooked eggplant, walnuts and pomegranate sauce will be rich and creamy
Add 1 tablespoon of sugar a time, mix it well without disrupting the eggplant. Taste and add more sugar if you like it more sweet. Khoresh-e fesenjoon is a well-balanced, sweet and sour (malas) dish. This is a sour dish but you may like it more sweet than sour
If the dish is too thick add a little water. If watery (not thick consistency) leave the cover a little ajar to let moisture out and simmer until thickens. Fesenjoon should not be watery.  

hints & clues
You can find the pomegranate molasses in the arabic or indian supermarket. A key factor for this recipe is using the right pomegranate concentrate/syrup. It should be of a thick consistency and not watery or mixed in with a sweetener. Don't use pomegranate juice
Using fresh ingredients in Persian cooking is key. One thing that we should mention is to use fresh walnuts, if possible. If you buy them readily packed in a bag, at least check to see that the walnut colors are light and not dark. Dark-colored and old walnuts taste bitter. Soaking walnuts for a few minutes in water or at least rinsing them before cooking improves the taste
Fesenjoon doesn't require too many ingredients or preparation time. It's a simple dish and it cooks fast. However, if you want to achieve that authentic and ancient recipe what it needs is patience. Khoresh-e fesenjoon has to be cooked on a low temperature/simmer setting for all the tastes to blend in and the walnut oil to be released gradually onto the stew

Et voilà enjoy your deliciousness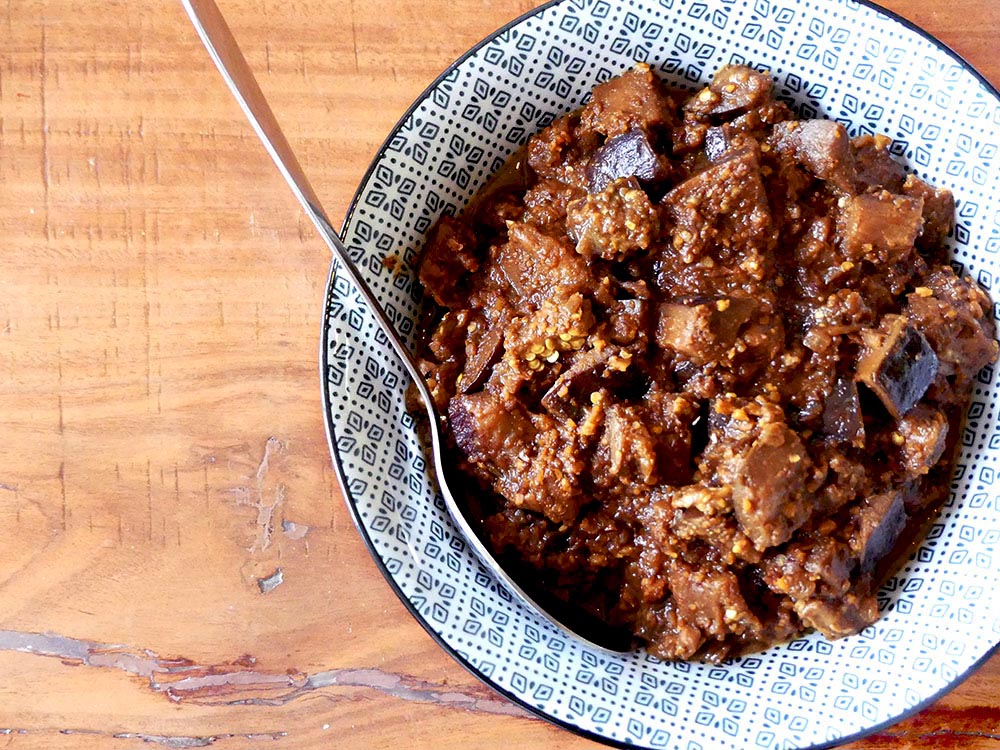 Have fun and come back for more!
If you'd like to share your cooking with us, tag us at Instagram: @tastethecultures
4 comments
---
reply
05. Dezember 2017
Janice
This dish looks delish! I love how you broke it down step by step and included pictures! Yummy!
10. Dezember 2017
Thomas
Thank you Janice. We always try to show how the steps to delicious happiness looks like. And this Fesenjoon is simply scrumptious
---
reply
22. November 2017
ueb
das werden wir doch dieses Wochenende ausprobieren !
28. November 2017
Bianca
Oh ich bin gespannt auf Fotos davon! <3