Easter like a Kiwi & departure to new adventures
Easter like a Kiwi & departure to new adventures
31/03/2016
Aroha Island & Matauri Bay
New Zealand, North Island
0 rating
Still we are enjoying the relaxing and lovely atmosphere on Aroha Island and stay there because we ain't got no other plans. And how relaxed it is: we just work 2h a day and got free accommodation, free wifi, free use of showers, laundry, powered site, kitchen facilities and free kayak hire. And at night time we can go on a kiwi hunt as often as we like to. Friends come and go, Thomas shows fisherman skills and finally we dicide to start to new adventures after the busy easter holidays.
We are still enjoying the peace and convenience of being on Aroha Island and due to a lack of other specific plans we even plan to stay for a bit longer. It is just so relaxing to work for 2 hours a day and then have the rest of the day to you. We are allowed to use the kayaks, showers, washing machine, have internet and we can even go on Kiwi tour whenever it suits us.
Friends gone,
new friends coming
On the 21st of March we get some work support by our new colleagues Maria (Swedish/Canadian) and Kane (Kiwi). It is fantastic to share the work load as a foursome again and the tasks accomplish even faster while sharing some stories about each other and traveling. We get along very well and it is highly fascinating to meet so many interesting people. It is especially interesting for us to learn how other young people around the world arrange their lives and working practices.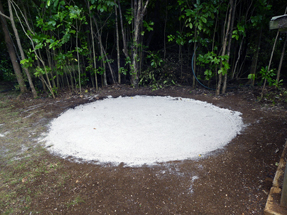 As far as we learn from them they have travelled a lot so far and did multiple jobs on their way, without having a certification for each and every of them. This is something totally new for us Germans, as we need to have a school certificate before we can start to work. For Germans, a piece of paper counts much more than pure work experience. How nice to see that it works different elsewhere.
It seems that the number of mosquitos is exponentiating every day and we have to search shelter in the office or in the van during the dusk otherwise we face a loss of blood due to mosquito stitches. Even the locally purchased insect repellent raises the mosquitos teasers only a mild smile while they still find a place to stitch you. Luckily we get some recovery time from the mosquitos as a storm sweeps over Aroha Island during the night. However we have to clear all the broken branches and leaves away the next morning. Funny enough, the flag pole standing in front of the reception building was broken down during the storm night. This seems to be almost an omen for the upcoming counting of the referendum about the new Kiwi flag. This topic has brought up heated discussions amongst the Kiwis in the last months.
New cultural experiences and traditions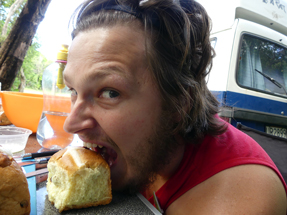 Then suddenly all the storm clouds are gone and all the repair works are finished just in time for the Easter holidays. Holy Thursday brings the last big guest wave before the season draws to a close. The camp ground is fully loaded with tourists and Kiwis alike. For celebrating the Easter Holidays on the other side of the world we decide to make a cake. Fittingly to our host country we bake a carrot cake, which is also very popular here and offered in many cafes.
We are up very early on Easter Sunday to be worthy representatives of the Easter bunny and hide a sweet surprise for everybody.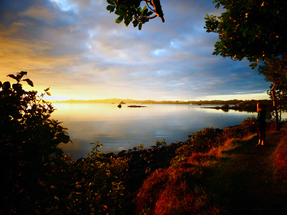 Our early morning wakeup call is rewarded with a magnificent view and Thomas makes some wonderful pictures of the sunrise on Aroha Islands beach.
Afterwards we need to stock up on our veggies on the Farmers market. There we meet Maria and Kane (our co-workers), one of the Aroha Island trustees and later on Tara (one of the helping hands on Aroha Island). It feels nearly like we are locals because we know already so many people here. In our teabrake, back on Aroha Island, we have the traditional Easter hot cross buns (a square sweet raisin filled roll with a white cross baked on top). They are heated in the oven, cut through in the middle and best to enjoy with some butter spread. Yummy!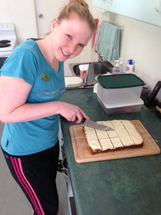 Simon and Wendy allow us to use the kitchen in the office because the camp ground is too full and the gas stove is blocked the whole evening. We are happy to escape from the whole hustle and bustle and to enjoy the evening peacefully in the office. Our menu is enriched by fresh fish, we have flounder and snapper nearly every day. We are the "kids" and get some fresh fish from our fishermen Phil and some veggies from Mihi, out of their own garden. We get spoiled here and are very happy to give a little bit back with some pieces of the indeed yummy carrot cake.
Yoga, fishing, a stingray and pure relaxing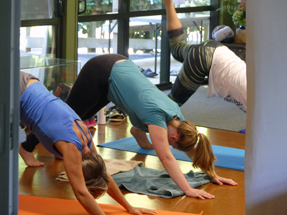 On Easter Monday I start the day with a session of active relaxation, as a yoga teacher has switched her lesson to the peaceful surrounding of Aroha Island. While I am still holding on to 'warriors pose' the others enjoy a cup of tea or coffee on the veranda. Afterwards we have to revive the camp ground after the Easter holiday guests have left. On the next morning at dawn the new water tank is delivered to Aroha Island and Thomas and Kane are helping to unload and place it in the right spot. During the day Maria and Kane take off to Auckland or rather to Cook Island and we say "See you soon" as you never know when and where we might meet again.
In the afternoon we give fishing another try and I am invited to join the fisherman in spite of all old sailor stories telling that women on board bring bad luck. Thomas catches a huge snapper and our diner is secured. I don't catch anything but both of the experienced fishermen attest my good throw out technique and I just enjoy being on the water with them. The Easter holidays meant some extra work time for us therefore Simon and Wendy give us another day off.
Early in the morning we drive to Orangewood (local kiwi orchard) and us for work. Unfortunately the storm and the so-so weather have delayed the start of the Kiwi fruit harvest clearly. They can't promise any work for us at the moment. We spend the remaining day in Matauri Bay, which is a 50 minutes' drive north of Kerikeri. We enjoy our free time at the beach, lying in the sun and bathing in the sea. The water is really really refreshing and you have to run into the sea quickly but once you are in the water it is fantastic. There are huge waves and we regret a little bit not to have any surfboards for now. Nevertheless it is a perfect free day and the weather is spoiling us with a clear blue sky and bright sunshine.
There is a short moment of shock for me when Thomas tells me about the stingray he has seen just a few metres away from him in the water. We have spotted it again from a few metres away later but it was a bit scary to me. Later on we have learned that they are not very dangerous, only if you disturb them or you are (were) Crocodile Hunter Steve Irwin.
Saying Goodbye

to the island is hard

Back on Aroha Island we get a special surprise from Simon. He brings us a ready-to-eat smoked fish he got out of the net in the morning. It is simply amazing and another proof (not that it would be necessary) for the stunning and charming kindness and amiability of our Aroha people here. It makes it even harder for us to say goodbye to Aroha Island. The cause for our sudden departure is a music festival called Homegrown Festival in Wellington which I gave tickets as a Christmas gift to Thomas. We have mixed up the date a little bit and are therefore forced to leave Aroha promptly. We consider ways to get to Wellington but unfortunately we won't get around the 13 hours' drive by car. Friday approaches quicker than we thought and we have to say "see you soon" to our lovely Aroha friends. This is just a temporary farewell because we are absolutely sure to come back to Aroha once we have finished our traveling. Now then, dearest Kiwis, we have to leave now for new adventures but we will come back for sure.

all adventures
0 comments
---


No comments so far. Don't you want to be the first one?