Aloha on Aroha and the "Kiwi-Whisperer"
Aloha on Aroha and the "Kiwi-Whisperer"
20/03/2016
Aroha Island & Russell
New Zealand, North Island
0 ratings
Yes, we've got the SCC sticker and the card, but it is kind of hard to find a good free campsite in Northland. And so we spend another night on a campground. Like always: tourguide Bianca found us a very special place which combines coziness with excitement: we stay on Aroha Island, an Ecocenter which wild kiwis call their home. And as a sleeping guest you're allowed to take a walk around the island and have a closer look. So we stay there, one night. One night.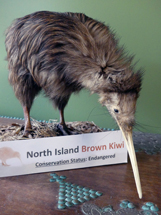 We have thought about staying at Aroha Island but our gut feeling told us right away to stay. (What thoughts? Why? Missed something? Just jump to our last story of the Waitangi Treaty Grounds and how we ended on Aroha Island).
On the morning we get to know the whole team consisting of Simon & Wendy (the managers) and Phil & Mihi (part time workers). But before we start working we need to restock our groceries at the Farmers Market, which takes place in Kerikeri every Saturday and Sunday. We get a good amount of fresh veggies and also study the schedule of the local cinema – just in case.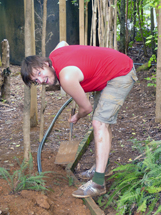 We shop the remaining things at the New World supermarket and start back to Aroha Island where the work already awaits us.
There's always
something to do
Thomas directly starts to help replacing a water pipeline with shovel and pick. In the meantime I do some cleaning and housekeeping. There are two Cottages and one big Lodge for guests at the Aroha Island Eco Center, which need to be cleaned and maintained regularly. And the WWOOFER's usually are responsible for the ablution block which means cleaning toilets, showers and the small kitchen for the campsites.
Suddenly
6 years old

, again

In the evening we start again a Kiwi tour and after a long search our patience is rewarded and we see our first wildlife Kiwi bird. What an amazing experience. The track in the night alone is an experience that all senses need to be readjusted to.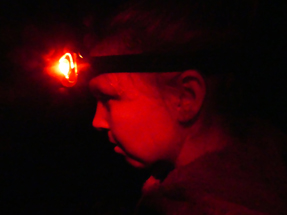 When was the last time one walked through the wood in night-time? We urban living people are used to neither the sounds nor the darkness in the woods and orientating can be a bit difficult in the beginning. That's why it is even more thrilling to rely back on your senses and listening to sounds in the darkness, whilst you have to feel your way on an unknown path. Additionally you are only allowed to use a red light torch (either by adjusting the setting of your torch if it is one with red light or by adding a doubled layer of red cellophan paper to your normal torch) because it would scare the Kiwi away otherwise. And you have only a vague idea of what to look for anyway. It's wonderful to feel that even as an adult you are able to fall into it and prowl as an explorer through the night time. You are fully concentrated on yourself and your surroundings and forget everything else completely. If you are lucky enough to actually spot a Kiwi your night is perfectly all together. It is absolutely recommended to everyone.
Good food and awesome entertainment
On Monday we worked more than the agreed working time and so we were given a day off on Tuesday. We spoiled ourselves with a visit at the local cinema, watching "The Lady in the Van" – a hilarious British movie. After that we enjoyed the yummy food at Café Jerusalem before we called it a day.
Taking the ferry to
Russell
We use our day off to go to Russell, the first Pakeha (Maori for white settlers) settlement. Therefore we drive back to Paihia and on the car ferry which takes us over the sea to Russell for 12,50 NZD per way. At the beginning we are visiting the famous flagpole that we have heard a lot of during our visit in Waitangi. Hone Heke, the well-known Maori chief, gave the order to put that flagpole down, not only once but four times because he didn't like to see the British flag waving above the New Zealand one instead of levelling both of them. Of course the British soldiers didn't like this action either and the whole situation led to a martial conflict. On our way to the flagpole we saw a Kiwi-like bird called Weka.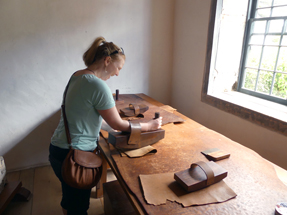 In Russell town we are visiting the Pompallier mission, the first catholic mission in New Zealand and a living museum today. In the backyard of the mission was the first tannery and in the first level one of the first book printing which printed books in Maori language. The responsibility for Oceania was transferred to the French bishop Pompallier and that's why all catholic missionarys landed in Russell at that time.
Bianca prints like Gutenberg
Bianca master printer at work at the Pompallier Mission in Russell
The bishop was an advocate of the Maori culture and supported the negotiations in Waitangi to that effect that every New Zealand Citizen should be free to choose and perform their religion. According to my opinion a very modern bishop. We give a short look to the oldest church of New Zealand, Christ Church and enjoy some ice cream on our way back.
The Island brings
good new friends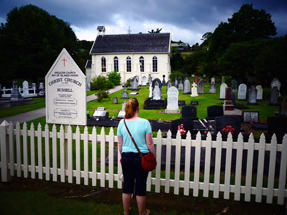 On Wednesday we start our working day with meeting new colleagues Alex and Selina, who have nearly reached the end of their New Zealand travel and found their way back to Aroha Island to wwoof together with us here. The word "wwoof" means Worldwide Opportunities on Organic Farms, a network to connect hosts and volunteers looking for organic work. What we do on Aroha Island is not fully wwoofing as it is originally meant to be because usually it means working full time and getting accommodation and food in reverse. But we don't really care how to call our job here we enjoy it really much and have so much fun all the time. We have a good connection to Alex and Selina immediately and the work time flies whilst working as a foursome with so much fun and good mood.
Occasionally we have tea/coffee breaks and talk a lot about traveling, plans and life itself. After we have finished work we cook together, do some sports or just sit and talk about all sorts of things. Simon, the manager of Aroha Island, takes Thomas and Alex for fishing two times and we all enjoy their catch as a dinner. Alex sometimes does the guided walks in the night-time and helps visitors to see the Kiwi bird. We should call him the "Kiwi-Whisperer".
Originally we had planned to stay for one week on Aroha Island but we like it so much here and our other job offer in Coromandel turned out to be a lemon, so that we have decided to stay longer. Later on this reveals as the right decision and we end up having so much fun the next days. We get to know Bertl and play jungle speed together even though he needed to look up the rules on the internet first as he had thrown away the French instructions.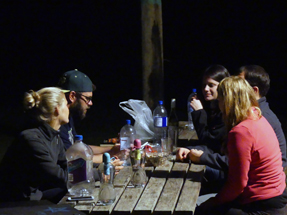 We were laughing out so loud and lasting that our bellys were aching and an old lady needed to remind us of the sleep time on the campground. Bertl stays with us for a few more days enjoying the peace on Aroha Island.
The hardest lesson to learn:
saying goodbye is always hard
Alex and Selina stayed for 2 more weeks and as a "Thank you" from the managers for our good work we are invited to stay in the Lodge for 2 Nights. How you can suddenly feel like a king because of having a real cozy couch and not having to walk across the camp site for toilette is amazing. Fantastic!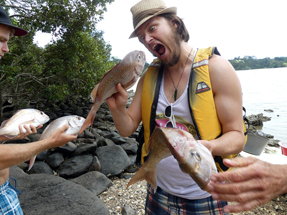 Moreover we use the kitchen, especially the oven very wisely as this is something that the usual backpacker traveller isn't able to do so for a long time. We make a pizza and watch a movie in the evening. On the next day we had actually planned a lasagne for dinner but we readjusted this plan immediately when we saw our proud fishermen returning from their fishing with 4 huge snappers. Together with Wendy and Simon we cook self-made Fish&Chips and have a wonderful evening together. Alex and Selina had to sell their van before leaving Aroha Island and gave us so many useful things they couldn't take with them to Australia. Saying good-bye to Alex and Selina makes us terribly sad and we had to hide away some tears.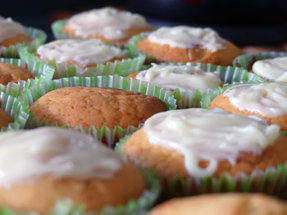 Even though we only had 2,5 weeks together on Aroha Island it seems that we had known each other for a long time. It's simply amazing and overwhelming to get to know these nice people. We wish a good journey to them and are looking forward to meet them in Germany one day.
all adventures
0 comments
---


No comments so far. Don't you want to be the first one?