Dead battery and living history
Dead battery and living history
28/02/2016
Whangarei & Waitangi Treaty Grounds
New Zealand, North Island
0 rating
Bit by bit we are exploring the North along the Pacific coastline. And it seems like our job search is not so successful. Hard working labourer like us isn't what the Northlanders are looking for (right now). But while we are up north we have a closer look to all those interesting nice places, as far as our wallet takes us. If there were not some sudden expenses.
After our cave adventure we still headed further north, into the largest city Northlands - Whangarei.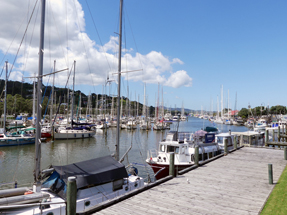 There should be a free campsite for self-contained campervans (campervans which can supply themselves with water and electricity) at the town basin, the local harbour. Our first impression of Whangarei during our evening tour is more indecisively. On the one hand, the attempt at making it fit for tourism can be seen, on the other hand you can see shady cars and people sitting in front of pubs. Therefore we only feel partially comfortable.
Eventually
tax payers

and a long way to the water

On Thursday we try our luck on the subject of our tax number (IRD number). There is an IRD office in Whangarei and we simply walk in and ask them. The lady at the counter unfortunately can't find any case in the computer related to our names. So she simply copies our documents and wants to take care of it herself. She tells us to come back around 4pm, then everything would be ready. We have just arrived back at the van as the IRD agent calls us. She informs us that the tax number had just been created in the system and we could come immediately and pick them up. So we walk back to the city again and finally we get our tax number from the beaming assistant. Well, now nothing can stop us, we are allowed to work in New Zealand!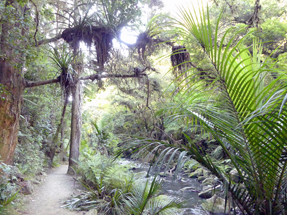 In the afternoon we want to explore the area and decided to go to the Whangarei Falls. First, the path runs along the river and always uphill and downhill. After two thirds of the way, you can walk through the A. H. Reed Memorial Park. There is a tree-crown path and we see a stick insect and enjoy the atmosphere of the forest. It is only a little bit further and we finally reach the destination Whangarei Waterfalls. The hike was at least as worthwhile as the sight of the waterfall itself.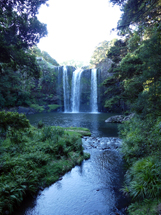 We strengthen ourselves a bit with a sandwich and soon approached for the return way, because it was already dusky. The hike took much longer than planned, we are just too interested in everything and make many stops for photos and look at flowers and shrubs. Back at the van we are quite drained and hungry. It is a quick decision, today we want to have something hearty. Due to our evening walk yesterday, we know already a place where to go. We have nice burgers and a cold beer at Wildside bar and grill. Yummy!
Where is all the
power gone?
On the next morning we have an awful awakening, because now our house battery (there is a car battery and a house battery, which are both charged by car) is completely dead. It seems like it is no longer recharging properly. Therefore our refrigerator is without electricity and all the food is gone. So we first contact the AA (like german ADAC) and let the friendly technicians take a look at it. They said relatively quickly that the battery is probably not to be used any more and we should rather go to a battery specialist to go for sure. Shortly afterwards, we are at Auto Tech and after a short check it is clear that the battery needs to be renewed. Puhh what an expensive fun. But obviously it is absolutely necessary, because if we were on the road again the refrigerator definitely needs to work properly. Otherwise it would be super annoying and in addition, a defective battery can also emit gases which we should not necessarily inhale.
Hundertwasser

= massive toilet flush

After the van is equipped with a new battery, we are heading further north on state highway 1. We make a stopover and visit the probably most famous, but also the most beautiful toilets of the world. They are located in Kawakawa and were designed by Friedensreich Hundertwasser.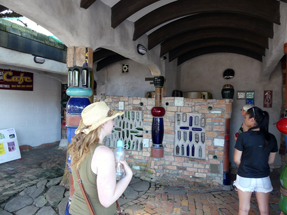 We visited Vienna last September and admired his art in the Hundertwasser Museum. Therefore we are very familiar with the artist and his views. We are not surprised that he has selected this wonderful country as a new home. After we enjoyed the toilets, we drove on to Paihia. A small, tranquil village, which seems to have specialized in attracting tourists. Here you not only have to dig deep into your pocket for the parking lot, but also to the question of free camping is quite unclear. The lady in the Touri Info smiles only sympathetically and informs us that there are no options. Well then we have to sleep in a holiday park. Before weg o there we need to refill all the lost food due to the scrap battery. In the evening we make delicious barbecue sausages and are glad to have a good conversation with a British couple. Eventually Germans are everywhere around us like sand at the sea.
People signed
a contract

here and have

made history
We spend our Saturday almost completely at the Waitangi Treaty Ground. The place where the contract between the British and the local Maori chiefs was closed in 1840, thus establishing New Zealand as a colony. There is a visitor center with film screening, a traditional Maori dance and vocal performance, a museum, the governor's house and the largest Maori waka (canoe). It was interesting and impressive. We have read and learned a lot about this part of New Zealand's history.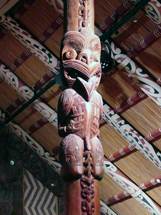 Names such as Hone Heke (important, influential Maori chief), William Hobson (Emissary of the British Crown and Governor), and Henry Williams (missionary who translated the treaties of Waitangi to Maori) are now familiar to us. We spend several hours on the premises and are truely inspired by the modern and interactive museum with its many original exhibits.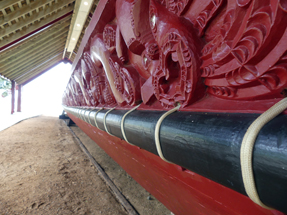 Especially the Maori dance performance was impressive and the singing of the artists provided pure goose bumps. The waka, which is exhibited in the garden, impressed us with its many Maori carvings and the immense extent of this boat. It is used only once a year at the Waitangi Day (06.02.), the national holiday. Women are not allowed to go on board, the only one that ever was allowed was Princess Diana 1983.
Waitangi Treaty Grounds Show: Haka
Traditional greating ceremony (Haka) in front of the Marae at the Waitangi Treaty Grounds
What
a lovely place

on earth

Packed with information and knowledge, we do not want to go anywhere except our new campground. In addition, there is also a persistent rain, so we are just happy when we arrive at Aroha Island. We are about 15min drive from Kerikeri on a small peninsula. One of the few places where you can go on the kiwi tour at night. Wendy, the manager asks us about our travel plans and we tell her that we travel on a working holiday visa. She asks if we would be interested to work as volunteers on the island. Hey, that sounds good, but we have tot hink about it for a night. We did not see a kiwi at night during our first tour, which certainly played a role, anyway we decide to stay on Aroha Island.

all adventures
0 comments
---


No comments so far. Don't you want to be the first one?