All that work goes into your apples
All that work goes into your apples
23/05/2016
Pakowhai & Hastings
New Zealand, North Island
0 ratings
If you are on the job hunt in New Zealand, you usually start looking for jobs in the internet. At least that's exactly what we did. After several applications on diverse ways without any success whatsoever, we get a little nervous. However the nearly ending apple season in Hawke's Bay brings us finally our first NZ Dollar into our account.
At first we weren't lucky, neither with PickNZ (the local agency for seasonal work in horticulture) nor with our contractor Andrew. Nevertheless we enjoy our time doing sports next to the river Clive and visiting the huge local farmers market. Even the next days we couldn't reach anyone regarding a job. So we made the most out of the situation and walked the Grand Circuit up to Te Mata Peak.
We keep our eyes open whilst we drive through the city. Spontaneously we stop at a packhouse and walk in quite naive just dressed in jandals. The manager seemed to be surprised to see us there and send us to another company a few metres down the road as they might still be looking for workers. Unfortunately they don't work on the weekends and so we need to try again Monday morning. Due to a persistent reception lady we finally got the contact data of an orchard manager who is urgently looking for workers.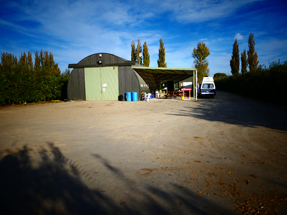 We meet our cheerful orchard manager Denver at his block (all the orchards are split up in blocks). He is really happy to get some more people on board and hands us each a contract to fill in. Finally we have a real job! Denver tells us: "Backpackers need money and that's why they're good hard working. We like backpackers." He has to give us a 24h time frame to think and review the contract and so we are ready to start working the next day.
But this is not the only good news; he even invites us to stay at the orchard. We simply park our van behind the shed, which has a smoko room, toilet, hot showers and a small kitchen area. So we park there and get to know our colleagues Aneta and Karel, both are Czechs and have been working here the last 10 weeks. However they are working in another group at a different block.
First apple harvest

in Pakowhai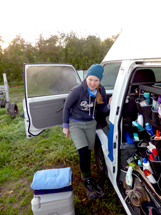 Sleeping so close, or to be more precise, directly at your workplace has some advantages. You get a few more minutes sleep every day. Usually it is not enough though as our working day starts at 07:30h. On our first day we get a little introduction together with Denver and two other new backpackers (Czech and Slovak) and tells us about processes and risk areas in the orchard.
Since a few years Health&Safety has increased in importance in New Zealand workplaces. We learn that every employee is insured through national accident insurance (ACC). Wow
Afterwards we start directly into the apple trees. Our workplace is a block 2min drive away in Pakowhai. As soon as we reach our block, the assistant orchard manager Warren welcomes us hearty and shows us our row and our new working equipment.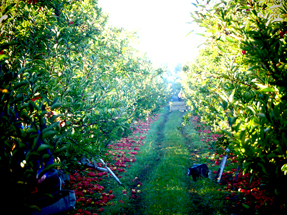 1. Lesson: How to use a ladder, the bucket and the scissors. 2. Lesson: how to choose which apples to pick. 3. Lesson: Why we shouldn't hurt ourselves. That's simple to answer; Warren doesn't want to do any extra paperwork.
We are a bit unsure about the apples and which one to pick. There is still lots of fruit in the trees but not all of them are ripe yet. Additionally we have to cut every single stem to prevent the apples from hurting each other when they are put into the bin. Somehow we feel like really slow. And to be honest; we are really slow. However everybody including tractor driver and quality controller tell us that it takes at least 3 weeks to get used to the job. And so we keep on working to our own pace. At 10:00 we have a "smoko", a 15min coffee break.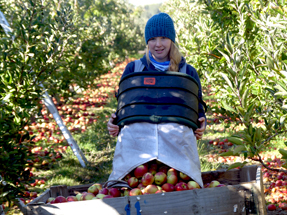 The employer is really generous offering hot water, coffee, tea, milk and sugar for the smoko. There is a lunch break at 12:30 and another smoko at 15:00.
The best thing about our first day at work is the next day. It is a public holiday and we have no work on that day, but still get paid. It is ANZAC Day (Australian & New Zealand Army Corps) and it is dedicated to all soldiers, who have fought for Queen England in different wars. It is either a normal work day and you get paid 1,5 times the money or just get paid normally and no work at all. We are proud of our achievement so far and enjoy the public holiday with a walk to the Cape Kidnappers.
Hard work

in the sunshine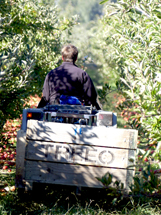 On the third day at the latest we have developed some routines for the day. During our first break we have a sandwich, for lunch we make fresh wraps (which we prepare in Marty) with lots of fresh vegetables and a muesli bar for the second smoko. The prevailing sounds are the tractor, the screaming and laughing Maori and Samoan workers and the sound of apples falling to the ground.
All those talks about us needing 3 weeks to get used to the job seem to be true
We are not getting much faster and additionally we feel our neck and back. The bucket weighs approximately 10-15kg depending on the level of filling. About 400kg fit into one bin and we are only able to do 2-3 bins per day. Even though it is really cold during the nights and early morning hours (down to 2°)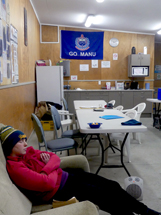 the sun keeps heating up during the hours of the day. In the first 90min of apple picking you hardly feel anything in your fingers. Warren keeps telling us that usually in the early morning hours there is a small layer of ice around the fruits. The rest of the day mostly gets hot enough for sunhats and tank shirts. Shortly before bed time we prepare our hot bottle for the cold feet, otherwise we can't stand the cold anymore.
And so we keep on picking and picking, changing between certain blocks and apple varieties. We enjoy good conversations during the break times or whenever the tractor driver, quality controller or assistant manager are up for a little chat.
We like this job.
After a while we are normally picking 4 bins per day. Actually they promised us another week of work after we have only worked for a week now. Anyway these hope got destroyed as Denver had to tell us that all backpackers won't be needed anymore. The remaining second and third pick will be done by the Kiwi or Samoan workers. The Samoans are truly picking machines. We can witness their precision on our last working day as a group of 12-15 people, managed by their own QC, finished our hardly filled bin within only 5minutes.
Bäm. Done. We are through with our work at Johnny Appleseed.
We really like this company and they treat their employees excellent. We get a season-ending BBQ with sausages and burger and free beer at the shed after our last working day. We sit together with our group members and the other picking crew, which are mostly backpackers, at the table. We enjoy this gesture of the employer and feel really thankful for this experience.
Without a break

into our new job

Even before the party at the shed is over, we drive to Havelock North. We have a meeting with our new employer Andrew and he will give us the contract details. He looks like a former bodybuilder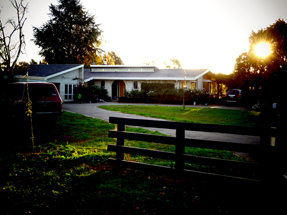 and unfortunately his behaviour reflects this cliché. Unfortunately the party is already over as soon as we reach back to the orchard. We are alone at the shed for now. Therefore we use the remaining free time to prepare ourselves for the new job: cleaning our shoes and washing our clothes.
Our new workplace is at the edge of Hastings at Chris' place. His father and Chris own at least 3 blocks of apples in one orchard. We are part of a small group of backpackers who do the relatively late apple harvest. Firstly we have to remove the foil which lays on the floor to reflect the sunlight and therefore ensure a more equal ripening of the apples. Already on our first day we get stressed by the mostly senseless conversations of our young colleagues. The only thing that matters to them: "How full is your bin already?"
Quality does matter

in the end

On the second morning there is an employee meeting. One of the German girls hasn't come to work today and is not supposed to come back at all. She didn't understand that the fruit we pick needs to be perfect as it is export apples. The only thing she was interested in was filling her bin. Obviously she didn't care about being cautious with the fruit whilst picking or emptying her bucket into the bin. The annoying orchard conversations adapt accordingly. Now they only talk about "Today I need to be careful, I want to keep my job". We are not impressed and just keep on doing good work at our own pace.

It takes quite a while to walk anywhere in this orchard. For example it is a 15min walk to the toilet and there is no hot water or coffee. At least we are allowed to use the hot showers there. Therefore we don't have to drive to Napier where we would have used the aquatic centre for a shower. On the next morning Chris asked us why we have asked him for the shower and where do we sleep at all? We explain to him our situation and he immediately invites us to stay on his property.
"There is no kitchen but a small guest room with a hot shower and toilet for us"
It is located in between his house and the garages. We are really thankful for that opportunity and accept his offer joyfully. We strongly believe that he offered us this convenient place to stay because he is satisfied with our work. Sometimes he picks up one of our full bins and just comments on the work "It is not that hard, is it?". Obviously he doesn't like the way other people work at his orchard. So we are encouraged to go on as we did. Not super-fast but typical German precisely and clean. And Chris seems to like our way.
Our new employer
can't speak to us
We usually only talk 2 sentences with our real employer per day. He arrives at the orchard, walks through the rows and asks us how many bins we did yesterday. End of conversation. He doesn't talk to women at all. He doesn't seem to be happy with our pace but he never says anything. Probably because he knows that his employer Chris likes our way of working.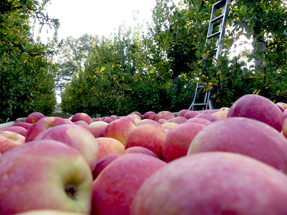 We only fill about 3 bins each per day whilst other workers fill 5 bins each. There are two different types of contract or payment methods. You could either earn contract rate which is 35-45NZD per bin, depending on the variety or minimum wage, which is 16,47NZD per hour. The contractor (our employer) gets 41NZD per bin. He has to pay 35NZD to all workers except us (as we are not doing enough bins to get contract rate). We get 8 hours minimum wage paid by him. Which means he is making no or only a small amount of profit with us. However he has never complained to us directly.
Chris invited us to have some beers in his house one night and we had so many good conversations with him and his wife (from the UK). We talk about the work and his first-time experience hiring a contractor like Andrew this year. He had hoped for professional, experienced workers. Usually he has his own picking crew. Now we are the only satisfying workers and an exception out of the whole group of workers. Nevertheless we have good talks about Europe, New Zealand, culture and stories of life.
Season is ending
In General we really enjoyed working with Chris. We have a hot shower in the evening, a little bit of New Zealand TV program and always good company of the two cute dogs Suzy and Kate. We increase our productivity and finally reach 6-7 bins per day, once even 8. And we are still a bit slower than the other pickers. This disturbs us and we feel horrible sometimes. It is annoying and we are stressed out by our own expectations.
Sometimes we even stomp on apples lying on the ground. As soon as you stomped on them you already regret it
Ayway we are doing mostly second or third pick in some blocks. It basically means that the rows have been picked before and only the unripe fruit was left behind. Unfortunately there aren't as many left as during the first pick which slows us down additionally.
Finally the last day on Chris' orchard has arrived. He offers us to stay over the weekend or as long as we need to sort our stuff. Andrew has one last juice job for us which is supposed to take two days. The job requires us to pick literally every apple no matter what size or quality. It is a cheap variety here in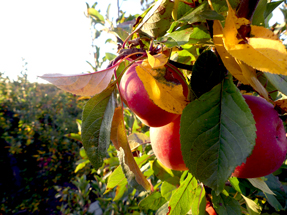 New Zealand but obviously one of the most famous varieties in Germany: Braeburn. The contract rate is even less for the juice job but at least the trees are full of apples. We pick as quick as possible sometimes we even throw the apples directly into the bin. At the end of the first day we are finished with the orchard. Our beloved employer doesn't even tell us if we have any more jobs or what happens next. But we are just to his careless behaviour and we still enjoy our season ending beer together with the other pickers. We arrange a BBQ for the next evening to meet them all again. That's the end of our five weeks of apple picking.
Uncomfortable aftereffects
All the seasonal workers are paid weekly and usually with one week delay. When we checked our accounts we recognized that Andrew had paid us way to less money with the last payslip. After endlessly ongoing E-Mail traffic we uncover the truth about his behaviour. He claims that we have worked one day less than we actually did. Unfortunately Chris has no overview of who worked when and for how long, as he didn't take any notes. It wasn't his responsibility anyway. In the end we have no real proof that we have worked that day as we had trusted on Andrew noting our working times down in his diary. Lessons learned out of that troublesome situation: never work without proper time sheet and the signature of your employer on it.
That was his late revenge for our too slow and too high qualitative work
How does that relate to your apples?
To be honest, most of the apples we picked will be shipped to Asia. But maybe a few apples are good enough to pass the strict border control of the European Union and will make it into your local supermarket. You will recognize them by the little sticker or at least they must be marked as "Product of New Zealand". We learned a lot (also through our packhouse job in Gisborne) about how much work goes into every single apple.
Maybe one day you will bite into a juicy Braeburn that was picked by us. Even though it is rather unlikely
all adventures
0 comments
---


No comments so far. Don't you want to be the first one?