Cape of the sweet fur animals
Cape of the sweet fur animals
16/04/2016
Cape Palliser & Havelock North
New Zealand, North Island
0 rating
We like the cutest little capital in the world, even with the wind. But now the will to discover increases again. And not only that makes us start to direction Hawke's Bay, there is also that emptiness in our wallets. And so we go where the work waits. And there is already one opportunity...at least we thought so.
We start really early from Wellington to go to Cape Palliser. It means a little detour for the moment because our destination is meant to be Havelock North, Steve's farm. But we make the most out of being down south and go to see the sea and Cape Palliser.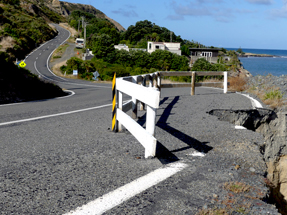 On our way we listen to the local radio station, which is a big success to get some radio at all. Usually Marty's radio sounds like broadcasted out in space, at least this is the quality we can hear. Any way they report about an earthquake near Masterton last night and all of a sudden we understand what that strange shaking of the van this morning meant.
It wasn't the complaining neighbours, it was an earthquake
Our first earthquake in New Zealand. At first we both didn't recognize it as an earthquake. You get used to the shaking of the van quickly due to the heavy winds in Wellington. But this time it was different, the van didn't shake at the top where the wind usually attacks but rather at the bottom. It gives us an icily chill thinking about it in detail. Wellington lies exactly on a Fault Line, a break line between two tectonic plates, which makes it easily affected by earthquakes.
On our way to
Rivendell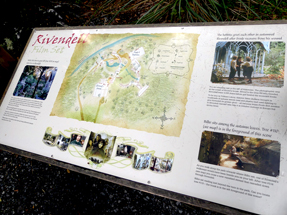 On our way to the Cape we pass by Rivendell, one of the many Lord of the Rings filming locations. For all those who don't know the movies (what, seriously?): Rivendell is the elves city in the mountains. There the fellowship of the Ring is forged. It is one of the spots, where the production company left some signs and a massive archway, so you can imagine how it looked like. With a bit of creativity you can imagine the southern alps (which they rendered in digitally) in the background. And than you'll see Legolas, Frodo, Gandalf and even Bilbo. Don't miss out on our pictures gallery of Rivendell and Cape Palliser.
This path won't be easy
In fact it is rather rocky and full of debris. But Marty has 4 wheels but is no 4WD. But he takes us securely to the lighthouse. As soon as we reach our destination we have a lunch break. And we will need the energy later on for the 251 steep steps climb up to the lighthouse. Alright fitness test passed, we made it up to the top and are rewarded with a stunning view.
Rumours say you can look right across to the South Island on a good day
But today we only see rain, clouds and fog on the horizon. We climb down the stairs and go looking for the little and big fur animals that are supposed to hang around here. Indeed as we watch out on the sea we spot a little black animal diving in the waves.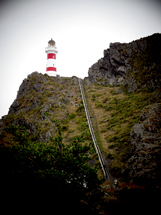 This is crazy! We run to the beach and try to keep an eye on him. At that point of time we didn't know what we were about to explore. We take Marty to a space where there is said to be a whole colony of fur seals. There we spot 4-5 young seals playing in the shallow water. They dive, climb onto rocks, turn around in the water and watch us curiously. We come closer step by step and take many pictures. Mostly we just simply enjoy watching these amusing animals. It is hard to express these happy emotions in words. These agile swimmers are so cute to watch and we keep studying them before we make a little move further one.
Even before we can see them, we can smell them
There is indeed a colony of at least 300 fur seals in front of us. They lay together on rocks and snooze. Many fur seals swim in a little pool which is surrounded by high rocks to keep them safe from predators.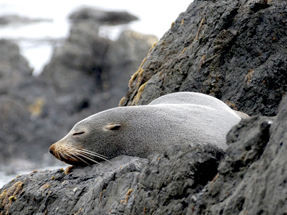 They keep a strict eye on us because some of the fur seals have their youngsters with them. One step too close and all the seals at the outer edge of the group get their massive heads up and hiss at us. They signalize us that we have reached their comfort zone without any doubts. We draw back immediately to not upset these beautiful creatures any further. We are thankful for this experience and the possibility to see the fur seals in their natural habitat without any human influences whatsoever.
Fur Seals at Cape Palliser
So cute, all those little seals at Cape Palliser
A job that
needs to be done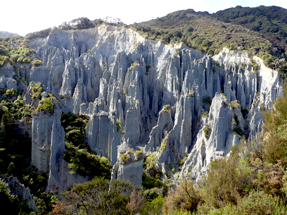 We awake next to the sea and make our way back over the dramatic scenery along this coast path. Our goal for today is a walk up to the Pinnacles reserve which promises nice views. The path is as steep as usual and leads us up and downhill. The efforts are worthwhile indeed as the rock formations we can see on our way are simply stunning. The return journey goes through an old riverbed and we are once more happy for our brilliant hiking boots. Our next destination will be Havelock North, so we better make a start now. Steve and his family is waiting for us and we are keen to start our first job in New Zealand.
Marty is as faithful as always and we arrive safely in the remote horticulture and viticulture region Hawke's Bay
We reach Steve's farm at 6pm and get greeted by the whole family including their four-footed animals. The family welcomes us really warm-hearted into their home and we are even invited for dinner. We are really excited about the job starting the next day.
It starts rather slow because Steve has to deal with some issues about his online business first. In the meantime we explore the property by ourselves together with Billy (son, 7 yo) Scruffy (little snarling dog) and Puppy (big, relaxed dog). It turns out that the farm isn't a farm in the literal meaning. It is more of a hilly property which truly requires some maintenance here and there. We guess they call farm because of its enormous size not due to the usage. Around noon time Steve finally has the time to explain our job to us. We are supposed to help him get the blackberry pest under control. If it is allowed to grow freely, it will soon cover the whole property. We start with a walk around the farm which is like a little rock climb sometimes. The high gras makes it even harder to get up the hill. After our guided tour we are still a bit confused on where to start working but nevertheless we give it a go. Our working equipment consists of overall, mask, gloves, gumboots and a little spraying container backpack for Thomas. Additionally there is a little rake and a tube with paste for Bianca. Ok so far, so strange.
We don't really have a good feeling about this job. We are unwilling to spray a poisonous chemical onto the plants
We start the job although we have an unpleasant feeling in our bellies. Bianca has to remove smaller black berrys per hand and rake and finally put some paste on the remaining root. Thomas has to pump the container handle and spray the liquid generously on the black berry plants. It is strenuously work through the knee-high grass and there a lot of small rabbit holes in the ground. The equipment isn't really fitting, the spraying container is way too small for Thomas, the mask is half-broken and the gloves are way too big for Bianca. After 2 hours of work we stop it as we are really exhausted.
After we finished work we have a look into the sanitary facilities. Steve allows us to park on the farm and use the shower in his old truck while the toilet is located in an old shed.
It would have been handy to know that you need strong nerves to be able to use the toilet
Unfortunately the toilet shed is ruled by cockroaches and humans are only allowed in under protest. We have a shower and use the kitchen in our van to prepare a delicious dinner. We hope that the cockroaches will stay in their toilet shed kingdom and don't discover that Marty is much more comfy and nicer than the shed.
Day 2
fighting against the blackberries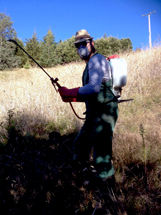 Before we start spraying the blackberries today, we flee into the city Havelock North. Our goal is to get a new Sim Card and visit PickNz. We are highly determined to get a new job. We can't keep going on fighting against the blackberries. This is not our war. At PickNz, an agency for seasonal works and workers, we get a contact number of a contractor who might have some work for us. Still we are Germans and simply leaving Steve's farm behind is not how we are raised. So we get back to the farm and try to kill the blackberries again. After one hour of work we recognise that the spray container is leaking. We have mixed blue colour into the liquid today so that you can easily see where you have already sprayed. The only thing we see at the moment is the blue colour on Thomas's back and his T-Shirt.
It can only mean one thing: immediate termination of work
We head down the hill and tell our employer what has happened about the container. He can't find the leak and we finish work for now. We go for a shower and we rinse all clothes thorough. Eventually it means the end of our first job in New Zealand. We don't want to risk our health and definitely don't support the usage of chemical weed-killer. It is over. We just have to survive one more night with the cockroaches and then we can go on. That's settled now. In the night-time we have to listen to a heart-breaking concert as the calves were removed from their mothers and they are now screaming for their youngsters. It is really scary if you don't know that sounds in a pitch black night on an unknown farm.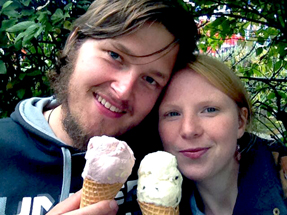 We quit our job the next morning. It isn't easy because the family is really friendly and welcoming to us. Nevertheless a risky job for your health and a toilet full of cockroaches is simply too much to bear for us. We explain to Steve in a polite and calm manner that we are simply not the right people for this job. He fully understands. Finally we say goodbye and are back on the road again searching for a job.
We drive into town, a little bit clueless about what to do and where to go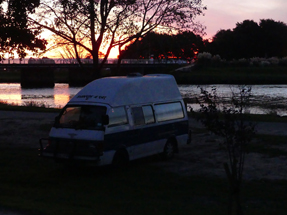 We decide to go from orchard to orchard and ask for work. Unfortunately today we are not very successful but we will try again. We can't reach our contact from PickNz either and so we call it a day for now. A little ice cream cheers us up after the horrific last days and we finally reach our campsite at Clive River Reserve. It is a parking area direct next to the river with toilet. Anyway it is nicer and warmer than staying on the farm.
all adventures
0 comments
---


No comments so far. Don't you want to be the first one?