Wellington - windy city
Wellington - windy city
11/04/2016
Wellington
New Zealand, North Island
0 ratings
And because we didn't drive for such a long time - let's do 1000km in one ride. Aprils fool!

Unfortunately not. Kind of spontaneously we have to leave the island and drive from Kerikeri in the Far North to Wellington on the southern edge of New Zealands North Island. Not only that trip was exhausting. Sometimes just the weather - especially Wellingtons winds can be very tough.
Aprils fool
No, it is not a joke, even though it is april fool day. We have started our drive from Aroha Island down to Wellington. It takes us approximately 13 hours to finish the 880km drive. Yeah!
It's not a country to drive through
in one ride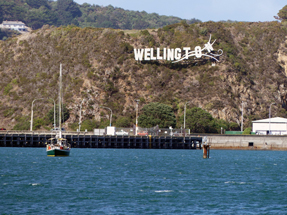 Actually we make good progress and reach Whangarei, followed by Warkworth and Auckland relatively quick. We have a bit of a traffic jam in Auckland on the State Highway which slows us down unfortunately. We have some lunch in a service area called "Autobahn" (the german word for Motorway). We enjoy a balanced diet, on one side we have a burger and on the other side are chips. After 11hours drive we are too tired to go any further and we stay for the night at Mangaweka campsite. We start freshly into the new day and reach Wellington city center by noon time.
Six stages, rain and
a lot of good music
Just in time fort he Jim Beam Homegrown Festival which starts at 2pm. This festival shows exclusively local music and artist. It is really exciting to visit a music festival in New Zealand. There are 6 different stages located amongst the Wellington Harbour. We don't know any of the acts, therefore everything seems to be thrilling and new. We just listen and dance to all different kinds of music throughout the night. The festival's main sponsor Jim Beam offers nice cool drinks and we enjoy being a part of it. And its very diverse: they play Rock, Folk, Raggae and even Electronic Music. But Wellington shows off with bad weather and we are refreshed by wind, rain and a cloudy sky. Nevertheless we keep on partying and so do the Wellingtonians, as they must be used to the strange weather down here.
The first real impression of
the capital
We stay the first night in the middle of the city - close to the famous Cuba Street. It's the odd parking area, where self-contained vehicle are allowed to stay overnight. But it's quite expensive. On the next morning we visit the Farmers Market, which is finally a real veggies market from local farmers. Ok to be honest all the shops seem to be owned by Asian farmers but nevertheless the vegetables and fruit are unbeatable cheap and of good quality at the same time. Additionally there are some deliciously looking street food trucks which gives us the "Berlin-feeling" straight away. Yesterday the place was full of stages and festival equipment, now it is crowded with market stands and food trucks. That is the real advantage of a big city. After the market we quickly go to the Nomads Backpacker Hostel where we stayed the first nights in New Zealand. We have used the hostel address for all our paper work. They are really friendly to store our letters for us and we take a big bundle of letters with us.
Our new campsite is a little bit away from the city centre next to a yacht harbour and it is for self-contained campervans only. We just chill for the rest of the day and relax our still tired festival legs. In the morning we walk the 5km into the city centre for the first time. It is really windy and we definitely need our jackets. Wellington's nickname is "cutest little capital in the world" and we can agree with that. It can be surveyed and explored on foot and it offers a lot. From hip stores on Cuba Street with nice restaurants and cafes, to street food and local brew bars at the harbour to nature and culture you can find everything there. In the evening we first meet Steve. He tells us about his boat and that he might need some helpers restoring it. We are really enthusiastic suddenly and exchange contact data. Let's see what this encounter might bring.
Up the hill &
down the hill
After some time spend exploring the city we want to have a walk in the nature for a change. We go for a walk on Mount Victoria, which belongs to the Green Belt around the city. The path is windy and leads up and down. It seems to be much fun for the Kiwis to walk these steep paths and in the end it is the way that matters more than the destination to reach.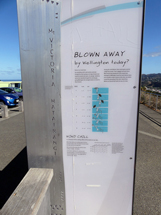 Mount Victoria is designed with plenty of walking paths through the bush. You can easily imagine why Peter Jackson choose this area to film some scenes of the first Lord of the Rings movie here.
On top of the Mountain you have this amazing view over the city and gain some orientation about the extent of Wellington. It is dreamlike to sit in the sunshine but still it is really freezing cold. We are learning about the arctic scientific researcher Byrd and Siple to whom they have built a monument up here. They have studied the so called wind chill effect. It basically describes how the perceivable temperature can differ from the real temperature because of the wind. And we have a good example for this up here. This is learning by doing or feeling to be precise.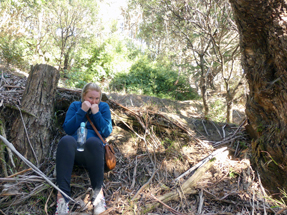 On our way back down we try to spot one of the famous movie making locations. In the first movie of Lord of the Rings, all Hobbits hide away from the black dressed horseman (Nasgul) underneath a big root of a tree. It was filmed here and we try hard to imagine 4 Hobbits sitting there. It needs definitely a lot of imagination to find the place they actually shot that scene.
Not our
cuppa tea
We get a call from a marketing company in the afternoon inviting us to an interview for the next day. We are excited and curious what kind of job and company it will be like. Anyway we have to sort our clothes for the next day and prepare us for the interview. Dressed up and on time we arrive at the marketing company at Lambdon Quay. Firstly we have to fill out a questionnaire before we get invited into an office to have a talk with a HR manager. We are both absolutely sure that we don't want this job after the interview is finished. We haven't travelled 10.000km to sell Pay TV from door to door.
We spend the remaining day in the library which is usually well-equipped with workplaces and Internet. Libraries and Second-hand Bookshops are highly popular here and high in demand because of the ridiculous high prices for new books. For a new paperback you pay approximately 35 NZD which is around 20 Euro. Naturally used books get a total new value from that point of view. I confess being a bookworm and the lack of new reading material is kind of hard for me. Fortunately libraries often do book sale of old books so you can get at least some new, affordable material from time to time. Of course you need to be lucky to find something interesting on the sale table.
A ride on the
Cable Car to the Botanical Gardens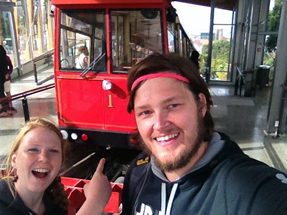 The next thing on our list is to visit the Botanical Gardens. The entry is free which applies also to the Te Papa National Museum and the Parliament. It makes culture and education accessible for everyone equally.
To get to the Botanical Gardens you can either walk or enjoy a ride up the hill in the Wellington Cable Car. We don't want to miss the chance to take the colourful ride in the red, historical train up to the entry of the Botanical Gardens. It offers a lot of interesting stories about the local plants and trees. We have our lunch break surrounded by the exciting perfumes in the fragrance garden. We sniff all the nice flowers in the herb garden and enjoy a walk through Lady Norwood's rose garden. Finally we reach the peace flame which was a gift by the Japanese town Hiroshima to Wellington. It was given to symbolise and value that New Zealand is a nuclear-free country since 1984.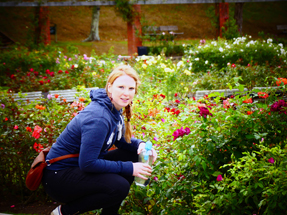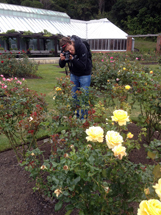 This country truly is a role model in so many areas. In the afternoon we have to walk back home with strong gale winds and we are happy to reach our van safely. The windy weather will be consistent for the next few days. It is proven to us now that Wellington definitely is the windiest city of the southern hemisphere.
One of
the cutest, smallest capitals

in the world

On Friday night we can finally enjoy a bit more of the big city life as we are visiting the night market.
There are many stands with lots of different international dishes and treats to be tested. The market is accompanied by live music and with all the people strolling around it is an excellent end of the day. We keep on going explore the capital with all its exciting opportunities. In the morning we visit the old government buildings, which are the biggest wooden buildings in New Zealand. After this we get a big bargain at Rebel Sports where we buy wetsuits and a 4person tent in the summer ending sale. Sitting in a cosy seatbag we tried one of the local brewed beers at Wellington Harbour to celebrate our shopping success. Finally there is a Thai festival held in the Wellington Harbour which gives us a good insight into our future travel destinations. There is lots of Thai food, clothes, music and dance. We get enchanted by the exotic music and call it a day.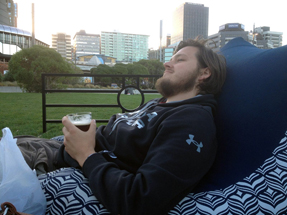 We spend our last day in Wellington for now visiting the Parliament Building, which has the nickname "Beehive" because of its architecture. You can go on a guided tour to see the assembly of Parliament and their own library. We learn a lot about the current government of New Zealand and their political system in general. We think the politicians are closer to the people here and they have more right to speak and get involved into law-making processes than elsewhere. Shortly after our lunch break we have a phone conversation with Steve Bell, the guy we met in Evans Bay Parade Harbour. We talk about restoring his boat. But for now we agree to come to his farm in Hastings (approx. 4h drive from Wellington) and help him there. Sound like we've got a job in Hastings. We shall meet him on Wednesday night at his property. It is time to say goodbye to Wellington and prepare to get on the road again. We spend the afternoon strolling around Cuba Street enjoying some cake and coffee before we leave Wellington the next day.
all adventures
0 comments
---


No comments so far. Don't you want to be the first one?