The ease of buying a car
The ease of buying a car
13/02/2016
Auckland
New Zealand, North Island
0 ratings
Stunning - we survived the first few days on the other side of the world: opening an account, getting over the jetlag and having just a bit of sleep from time to time and spending the first NZ$. Now it is time to find us a new home on wheels. On www.trademe.co.nz we found a promising one. A 1996 Ford Econovan, but from Tauranga. And because we are too late for the bus into the Bay of Plenty, we made an appointment with Holger (the van owner) in Auckland. Lets hop on the mana bus from Wellington to Auckland.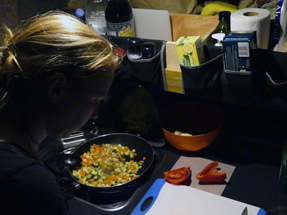 After a thoroughly exhausting 9-hour journey from Wellington to Auckland, with only one hour of sleep on the mana bus, we arrived at our destination. Shortly afterwards we met Holger and the long-awaited Campervan. First we drove to a quieter car park and Holger showed us everything exactly.
In principle, after a few minutes our decision was already made
Holger had used his time to make the van as practical as possible, small pockets and storage areas are installed everywhere, and everyone who has been camping for more than a couple of nights knows how annoying it can be to search for his stuff all the time. But not with this van, there are even straps for the van's roof,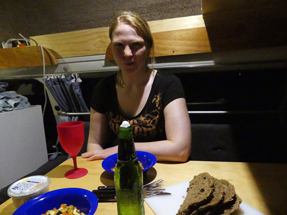 which can be used alternatively as sleeping space for a 3rd person or as in our case as storage space. After a small test ride, we opened the enclosed camping chairs in an inner-city park and created internet hotspots Enjoying the first meal and paid thanks to DKB (our favourite german bank) the money instantly. A lot of money. But the decision is definitely the right one!
Changing ownership

like a Kiwi

Afterwards a small odyssey began in search for an AA (Automobile club) or post office, which is still open on a Saturday afternoon. In the middle of the city we ran from corner to corner, from street to street and from helping people to the next. But when we arrived in the post office everything went quickly and uncomplicated. Two forms â?? one for the seller, one for the buyer. A checking view of the post office worker, two to three stamps and you are a car owner in New Zealand.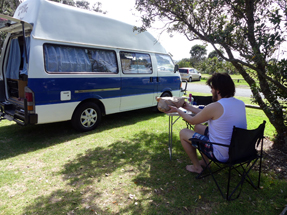 Cool and uncomplicated! Marty in Longbay Regional ParkFor us Germans unimaginable and unfamiliar, you get hardly any paperwork, not even a vehicle registration document, but anyway the transfer of the car is done in less than an hour. Our new registration plate is UR 2899. Then followed a little sad goodbye (Holger loves his van - but we also loved him already). In the evening we parked the first night in our new van in the Long Bay National Park, not far from the waves sounds in the middle of the nature - wonderful!
all adventures
0 comments
---


No comments so far. Don't you want to be the first one?