Freeeezy Gisborne
Freeeezy Gisborne
30/06/2016
Gisborne, Morere Hot Springs
New Zealand, North Island
5 out of 1 ratings
The season seemed to be 4-5 weeks behind schedule. At least that's what they told us in Hawkes Bay. It was one of the reasons for us to get the apple picking job eventually. And it was really enjoyable warm during the days. We didn't expect Gisborne to show off these freezing cold windy and rainy days. But finally we got through these temperatures and our second job in the packhouse.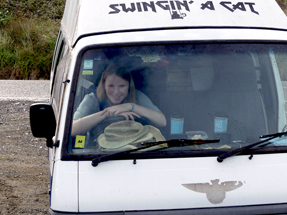 But first things first: petrol is extremely expensive at that moment in Napier. Therefore our driver Thomas decided to wait for the next town to refill. We climbed over a mountain range and even after 100 km further along there is no sign of any town whatsoever. The indicator for the petrol tank goes dangerously low and our nerves got a bit wobbly. Finally we reach a petrol station in the middle of nowhere and get to refill the tank. Luckily it was petrol after all. It was only about 20 cents per litre more expensive than Napier. Anyway we see a stranded boy sitting with his backpack at the petrol station. So we decide to help him, our first hitchhiker. His name is Sven and he is from Cologne and stays in New Zealand for 4 months. After this he wants to go back home for studying. We take him to Wairoa where a former colleague of his father is waiting for him. We have made his day and finally we need to refill our tank again.
Marae

sightseeing tour

Our travel guide promised us a lot of maori culture (or as the maori like to say "heaps of") along the way from beautiful Napier to Gisborne, supposedly the surfer's paradise of the North Island. Indeed we pass along several maraes at the east coast.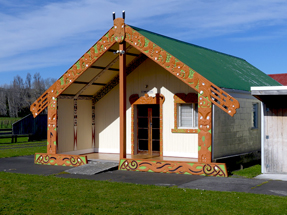 They are gathering places respectively houses for the tribes. Usually they are decorated with beautiful and different carvings.
At one of the marae we can see a flag on half-mast. We don't truly realise what it means and keep on taking pictures. But of course we are respectfully watching from behind the fence. All of a sudden a lady approaches us from the marae. She says: unfortunately we can't come inside because there is a funeral ongoing but we are welcome the next day in the afternoon? Therefore we decide to stay in the area and spend the night at the beach before returning the next day. But unfortunately we are too early for them, there is no one there. Alright we keep on going northwardly.
Hiking until the feet are smoking and a
jump into the hot water
About one hour northwards from our last stay are the Morere Hot Springs. Natural hot springwater was used and praised by the Maori due to its healing powers, both physically and spiritually. The British liked it too, took the land away and build bath-houses with an entry fee. Even for the three hikes.
We tie our hiking boots and walk through the dense forest on the grand circuit. The weather is hot and humid and the ascension is steep and strenuously. Once we have reached a plateau we descend through palm and fern trees. And all of a sudden there is water everywhere. The terrain gets rockier and the water hides away within the mountains sometimes.
In these moments unsuspecting hikers are forced to use the river bed as there pathway
Let's say it like this: for untrained or badly equipped adventurers this might be a bit too much. But we had lots of fun.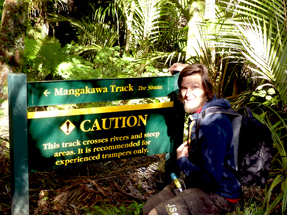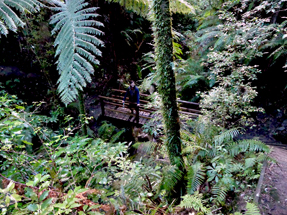 After the 3 hour hike we were really exhausted and looking forward to the hot water of the springs we just saw originate in the bush. Thick pipes lead the hot water from the spring, where the minerals leave colourful marks, into the bath-houses. There are three different pools waiting for the relaxation-seekers. One pool has 38°, a warmer one has 42° and there is also a freezing cold pool. They can be best described as whirlpools without any whirl.
Oh what a feeling! The muscles are thankful for the warming cure. If it gets too hot, we just jump into the cold pool for a quenching bath (which is highly enjoyed by the other bath-house guests). We enjoy the effect of the water and feel maori-like washed and healed.
Sightseeing
Gisborne
Gisborne is always a wet, cold and grey memory for us. Unfortunately it was exactly like this. Even if they have the sunshine brewery and the town promises to be the most sunniest in New Zealand. Obviously we are here at the wrong time of the year. Nevertheless we explore the township. There is a recommended museum which we visit. It is worthwhile to see and educational. Above all, it is not too big.
Of course we can't miss the monument to honour the first landing of captain James Cook. It is erected where he and his seaman firstly touched New Zealand's ground. So far, so good. Foolishly they didn't recognize the meaning of the haka which the inhabitants performed on the other waterfront.
One sailor shoots, one maori dies, not a good beginning
Nevertheless they will meet on the next day. This time no one dies. But anyway as the atmosphere is tense, Cook quickly leaves the bay without any new stocks, which is way the bay was called "poverty bay". Nothing to win here.
We even climbed the hill with an obelisk placed at his foot to remember the events. It was ok but nothing special really. There is a statute of James Cook at the beach promenade and a monument to remember "Young Nick" who saw Aotearoa the first time and exclaimed "land ahoy!"".
A job that gives us
shelter during the cold days
That was our main when we started looking for a job in a packhouse. We want to be protected from rain and cold during these freezing winter days. It goes faster than expected. We just drive around and make a stop at a packhouse. We leave our contact details there and they called us already the next day. But there is a catch when they offered us a job. They only want one worker – tall and strong. We decline their offer friendly because we need a job for both of us. After 10 minutes they call again and all of a sudden there is a job for both of us. Cracker!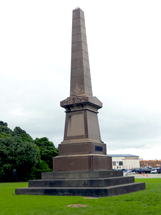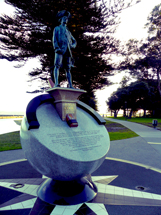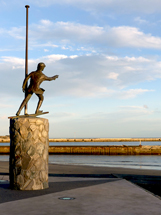 In this packhouse, a little bit out of Gisborne, they pack citrus fruits for the local market and for export to USA and Japan. Bianca has to glue boxes for the export fruits. On our first day we both have to do the gluing job, as the packhouse I generally empty on that day. Around lunch time other workers are arriving and Thomas has to do stacking boxes from now on. In the meantime Bianca has got some new colleagues in the gluing business. Nevertheless they are only partially helpful.
During our three weeks of work in the packhouse we observe that there are generally people who are absolutely brilliant and creative in finding opportunities to avoid work.
Some have a spontaneous headache; others have problems with their eyes whilst some simply prefer to drive the forklift around instead of doing their real work
Sometimes without any real reason. Generally we think that the whole business is not organized pretty well.
It is not even a warm place to work as we had imagined it to be. The packhouse itself is a big roof with lots of open gates and doors, which makes it chilly and windy. After we finish our work we usually are in a heated mood and like to discuss our day and all the oddities of the day together. We enjoy a bit of Marty's heating and the comfort of each other's company and understanding. It feels good to share the anger or frustration with your loved one sometimes. On some days we have to change the setup of the sorting machine for local market instead of export fruits. Once it was only for 20 boxes of lime. After they were finished we needed to clean and rebuilt the setup for the export fruits again. Sometimes the pallets are stored in the way. And there is always one of the managers running through the packhouse shouting stuff like you cost me too much money or don't overgrade the fruits.
The sad climax is reached when Bianca together with the other useless, over-paid and unthankful workers has to sort through mouldy mandarins. Let's say in one box are 50% still good fruits and 50% mouldy fruits.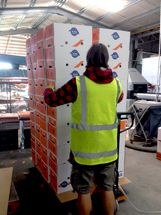 They have to be separated into different boxes. You know how dusty these mandarins get when they change their appearance from fresh orange to mouldy greenish? There is mouldy dust everywhere on our clothes, skin and hair. Bianca is sick of it.
This job is indeed hard, physically and mentally. If we have to do the export fruit, it gets very quick and hectic. Stacking boxes means: putting the 14kg heavy boxes on the right pallets (depending on the size of the fruits), strapping them together with a plastic strip after each two layers of boxes, after 7 or 8 layers strapping them finally, move the pallet somewhere and bring an empty pallet to be filled.
It goes so quick, the sorting belt hurries and there is usually no stop at all
Fantastic if your stacking colleague decides spontaneously to go on a little tour with the forklift. Or even better, the manager comes and gives him some useless orders. Gluing boxes isn't really any better. Especially if your chilean gluing colleague decides not to glue any boxes any more. She just wants to fold and stack them. Which basically means gluing and inhaling the stupid glue for 8 hours. Poor Bianca.
Others would maybe even pay money for the whole glue inhaling thing
.
After a bit of a hassle with the gluing girls, Bianca has to go to the sorting belt to do grading. At this workplace you have to stand still for the whole shift. In front of you is the belt with all the fruits coming from the washing basin. They need to be separated into two sorting areas. Premium fruits, for the export markets, go into the big machine in the first lane. Second lane is for the second grade fruits for the local market and there are juice fruits into the third lane. The sorting machine decides about sizes of the fruits and puts them into the right boxes.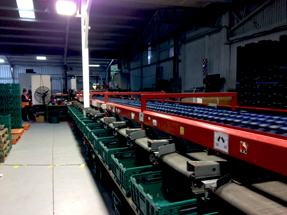 If you are working as a grader you have to decide with fragments of a second about the quality of each fruit in front of you. Is the peel damaged? Is this a premium lemon? Is this mandarin export quality or local market? And the worst thing: you are standing still. No movement or alternation. Neither for your eyes, that have to focus the same distance over hours. Nor for you mind or body. You can't even go to the toilet in between. Therefore you drink to less. It is so tiring. After three weeks we are sick and tired of our packhouse job and move on. You simply don't have to do some things any longer. Full period.
Sum it up
Gisborne might not become our favourite destination. The impression of this job simply lasts in our minds. The weather is not really a plus as well. Neither the library nor the incomparable friendly ladies there are of any use for us. There were exactly three positive things about Gisborne. Firstly there is a good farmers market every Saturday very close to our parking place. We get our veggies and fruits relatively cheap there. Secondly, the beaches in and around Gisborne are beautiful and brilliant for surfers. We even saw people surfing on their boards in these freezing cold days (even though the temperatures must be around zero to 8 degrees).

And thirdly, there is Hina and Simon. A Japanese-Swedish traveller couple, who have shared the parking place in Gisborne with us. They have the same campervan as we have, which led into nice conversations straight away. They travel since many years. Often we stay outside and talk and laugh with them, just fighting the cold temperatures with alcohol, until late night. They were the ones who inspired us to stay longer on Cook Islands than just for a short holiday trip.
Shortly before we start our way up to the north, Marty drops a bombshell in Gisborne winter weather: mould
It rained one day during our working hours and we forgot to close the rooftop window. Actually the mattresses dried really quickly. At least that's what we thought. In reality the water simply wandered through the mattresses down. However, there is not enough air circulation and so it turned mouldy after only a few days. We find it by coincidence because we wanted to change the bed linen. After this sensational finding we treat the mattresses with mould ex in the laundry. Since there is a plug in for the hair dryer to blow our mattresses dry.
So far, so good. But one look into our storage room over the bed reveals, there is even more mould. Freezing temperatures since weeks, dampness during cooking every night, closed windows due to the rain and finally a high humidity in general lead to these unwanted inmates. Luckily it is a sunny day when we put all our clothes and stuff on the parking place and clean every corner of Marty thoroughly. A really pleasant last impression, thanks again Gisborne.
all adventures
0 comments
---


No comments so far. Don't you want to be the first one?