Who we are and what this all is about
Who we are and what this all is about
08/02/2016
Erfurt
Germany
0 ratings
We are Thomas (31, full-blooded Thuringian - central Germany) and Bianca (29, Saxony girl living in exile), a german couple who travels the world. Nice story so far, but how come and what for? And how do you do that?
It all started in March/April 2015. We have been on our first backpacker trip through beautiful Vietnam and were sitting in a lovely Bar right at the Beach of Phu Quoc. A nice summerly breeze made that night special. And while we finished our fancy cocktails and realised that in a few days everything would return to normal there was an idea. Thomas told a story he heard of: a couple who travelled the world and financed that trip by working occassionally wherever they found a job. We looked at each other and from a "we should do the same" it grew to a "we'll do that, too" very quickly.
The idea was born, but getting onto the road is a challenge on its own. We bet every traveller has got the same problems to solve: finding a route, financial background, style of travelling and not at least everything you leave behind of your old life.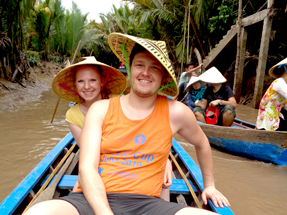 The trip through Vietnam showed us how hungry we are: for foreign countries, cultures, food, ways of life. Very quickly we realised, that we would not travel like the usual tourist and that our perspective should be different. Three weeks of backpacking Vietnam was a good starter, but just enough to get a quick look into the culture. We wanted more. And we started being very excited about all the things we are about to explore.
We want to really get into it. Into new cultures, new environments, into new worlds. For us it is more important to meet interesting locals than staying in the fanciest hotels. We want to be part of local life, get a closer look into tradition, pots and pans and different lifestyles. And because we had those goals straight away from the beginning we just knew: our most important part of travelling would be time.
Time to get there, time to dive in, time to be brave for new experiences, time to look behind the scenes of tourism, time to reflect and simply time to have the best time of our lifes. Every single day.
Planning makes the perfect trip?!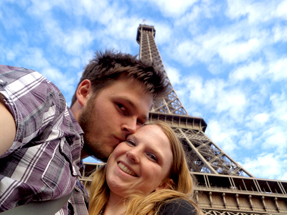 At the beginning there was this exciting idea: world trip. But how to start? We asked the web and there are a lot of good blogs and agencies who have heaps of good advices and tips. But it is confusing at the same time. There are routes for every kind of time frame and budget, do's and don'ts. All we took from this research was inspiration. So we looked up a calender for climate zones: when to be in which country to not waste your time while waiting for the monsoon to disappear or the desert-like temperatures to cool down. www.beste-reisezeit.org/, helped us creating our first route round the world, written down on a sheet of paper. As soon as it was finished Bianca presented the trip through 25 countries and the result was something like this: It's brilliant darling, but what about China? And Japan? Don't we want to go to Argentina? And what about a Pacific Island? Let's talk about Africa. Is it even possible to explore Cambodia, Laos, Thailand, Myanmar in two months including a comeback to Vietnam? Straight away we knew: this is not our style of travelling.
And as soon as you say goodbye to "we've got a year to see all the world", you really realise that you want to get into it. Travel the world and learn about other cultures more intense needs time. So we decided not to have any limits and left everything behind: jobs, apartment, family and friends and security. It needed some kind of braveness, but we think excitement was just the stronger feeling. We left the comfort of home behind, sold as much as we could and stored the rest with our family. Family and friends are one very important factor to be brave. Knowing you have them always on your side makes it more easy to be brave and adventurous. And of course we couldn't have done it without them. They helped us with moving and storing all stuff and they are always there. Like a save harbour.
But finally we get into the main storyline:
We decided: not to decide how long it would take. Not exactly at least. About two years. Or more?! But how to pay for all that? And then we remembered this story about working occassionally and all of the sudden there was New Zealand: Working holiday scheme. To apply for the visa is very uncomplicated. You do it all online, pay online and within a few days you've got the confirmation. At least this is how it worked for us. Easy as (like Kiwis use to say). After answering a few questions about your profession, medical situation and some personal information they just want to know, if you're a criminal or not. We just got our email confirmation while exploring Venice on our North Italy trip in a tent: Just waking up at 7a.m. Biancas asked "do we have mails?". The sceptical look onto the phone reveiled: we HAVE got mail. That was quick! And easy! And all of the sudden we were awake. Crazy how excitement replaces the need of a coffee.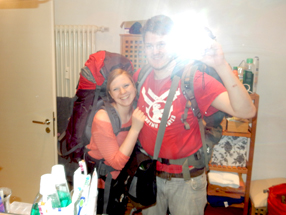 Once again planning and organising dominated our daily lifes. It is insane how many things you gather. It took us weeks to sort, sell, pack and store everything in suitcases, boxes, bags and cupboards. It seems like an endless process of packing and carrying. We hardly realised what lays in front of us: the world.
And where has time gone?
Now we lived in New Zealand for one year. In a van. We travelled, worked, explored, talked, cooked and mastered some adventures. On our way we met a lot of very kind, friendly people and found very good new friends. The country on the exact other side of the world is full of very lovely Kiwis (the birds and the humans) and it was a quite perfect start into our new life as travellers.
And now we change. Our beloved van Marty is sold, the tickets booked and visa for Australia approved. New adventures are waiting. Bianca comes back to Melbourne, where she already stayed for three months while working for her former employer. But travelling this massive country will be a new kind of adventure: new van - maybe built into a campervan by ourselves, new people, new culture, new kind of roads, new natural environments. And just two to three months time to see, as much as possible of that huge continent.
Come, join us on our next adventure!
all adventures
0 comments
---


No comments so far. Don't you want to be the first one?